Storm Door Installation Company Serving Greensburg, Wexford, Monroeville & Nearby
Get the right solution for your home with quality storm doors
Are you looking to upgrade your home's entryway with a new storm door? Energy Swing Windows offers high-quality storm door installation in Greater Pittsburgh, and we can help you get the perfect door for your home. We offer a variety of styles of storm doors, ensuring you get the appearance, natural light, and ventilation you want.
Our experts will help you evaluate the options and get the right solution for your home. If you're interested in a storm door for your home, call Energy Swing Windows today at 724-387-2991 to get started. We offer all our doors in Greensburg, Monroeville, Wexford, and the nearby areas.
What are the Benefits of a Storm Door:
Appearance: Your front door is a huge part of your home's curb appeal, and having the right storm door makes a big difference. We offer a variety of styles and colors and ensure that you get the perfect match for your home's design.
Natural Light: One of the best parts of storm doors is the amount of natural light they can allow in. Our doors come with several different glass options, as well as designs, that allow you get more light into your home.
Ventilation: Storm doors are a great way to create airflow in the home, which is why we offer several different screen options. Whether you want top, bottom, or full door screens, we can help.
Energy Efficiency: Your doors have a big impact on energy efficiency, which is why it's essential to be sure your storm door is fitted and installed correctly. We also offer doors with energy-efficient glass to further improve home performance.
Products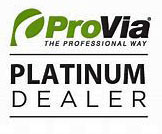 ProVia has over 35 years of experience as a nationally-known manufacturer of advanced entry door systems, vinyl siding, energy-efficient windows, and manufactured stone with a reputation for quality and craftsmanship.
Provia Storm Doors
ProVia offers an assortment of aluminum storm door options and colors to customize for your home's appearance and functional needs.
Spectrum: Spectrum storm doors feature retractable top and bottom screens and come in a wide variety colors. You can choose from a number of screen sizes and placements as well.
Decorator: Decorator doors provide a unique style to your entry door, including a full size pane. We offer several different colors as well as art glass to help you get the right design.
Deluxe: Deluxe doors offer improved lighting, ventilation, and weather protection for any home. With a variety of colors and pane sizes, you can choose the right style for your home.
DuraGuard: DuraGuard provides a heavy-duty stainless steel screen that still allows ventilation but eliminates the worry of pets or children damaging the screen. These doors come with a variety of color and pane size and placement options.
SuperView: Superview doors offer a sleek finish designed to maximize light and air flow. With several styles and colors available, you're sure to get the perfect door for your home.
Choose your local door experts for your home's upgrades
If you're interested in upgrading your home's storm doors, Energy Swing Windows is here to help. We provide complete replacement door services, and we'll help you get the perfect door for your home. Call us today at 724-387-2991 to get started. We offer free estimates in Bethel Park, Monroeville, Wexford, Irwin, Murrysville, Coraopolis, Plum, Greensburg, Export, Trafford, Canonsburg, Latrobe, Bethel Park and throughout the surrounding areas.
Looking for a price? Get a free estimate.